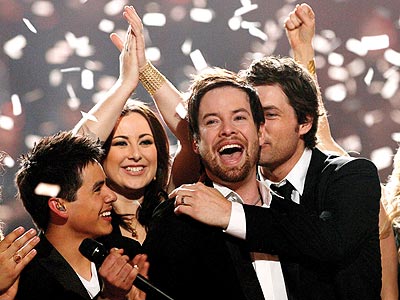 More than 97 million votes were cast and the results are in: David Cook is the newest American Idol!
The 25-year-old bartender from Blue Springs, Mo., became the seventh American Idol Wednesday in front of more than 7,000 screaming fans at L.A.'s Nokia Theatre.
"I started this season — much to Simon's chagrin — as the word nerd and I'm absolutely at a loss for words," Cook told the crowd after hearing the news. (His love of vocabulary was highlighted in one of his earliest moments on the show.) "Thank you guys. This is amazing. Thank you."
After Ryan Seacrest announced the winner, Cook fought back tears as reality set in, but he took a moment to congratulate his final competitor, 17-year-old David Archuleta, of Murray, Utah. The two Davids hugged, and Archuleta raised his arm in congratulations to Cook.
During Tuesday's performance show, Simon Cowell and Randy Jackson said that Archuleta clearly won the night. But last week, Cowell predicted that Cook would take the title. "He's done more to deserve it over the eleven weeks," Cowell said. "He's taken more risks, he's done things with certain songs that have been more interesting."
Simon even apologized to Cook just before Seacrest announced that he had won by 12 million votes.
"I want to congratulate both of you," Cowell said. "It wasn't quite so clear as we called it. In fact, David [Cook], I will take this opportunity to apologize because I think I was verging on disrespectful with you and I don't think you deserve that." To that, judge Paula Abdul gave one of several standing ovations of the night.
And there was a lot to clap about. The two-hour broadcast was jam-packed with performances from the Top 12 contestants, for American Idol Carrie Underwood, Donna Summer, ZZ Top, the Jonas Brothers, George Michael and more.
But the best performance of the night was saved for the end, when David Cook sang for the first time as the reigning American Idol, performing the winning entry in the show's songwriting competition, Regie Hamm's "The Time of My Life." Idol's Top 12 and his mother Beth Foraker and brother Andrew joined him onstage for the final moment of the seventh season.
But as Paula told both Davids, "It's odd that it's called the finale when it's anything but a final. It's the start of the destiny of your career."